Research Training
During the fellowship, fellows have 18 months of dedicated time for research, which allows ample time to carry out research projects and develop their skills as clinical and basic science investigators. In first year of fellowship, fellows identify a research mentor and a research committee. In consultation with the program leadership and their mentor, fellows develop a personal plan for their research training. At UCSD, there is a remarkable array of research training opportunities open to the fellows, from basic science labs, informatics, clinical trial design, and outcomes research. Our fellows have a broad range of research experiences and mentors to draw from.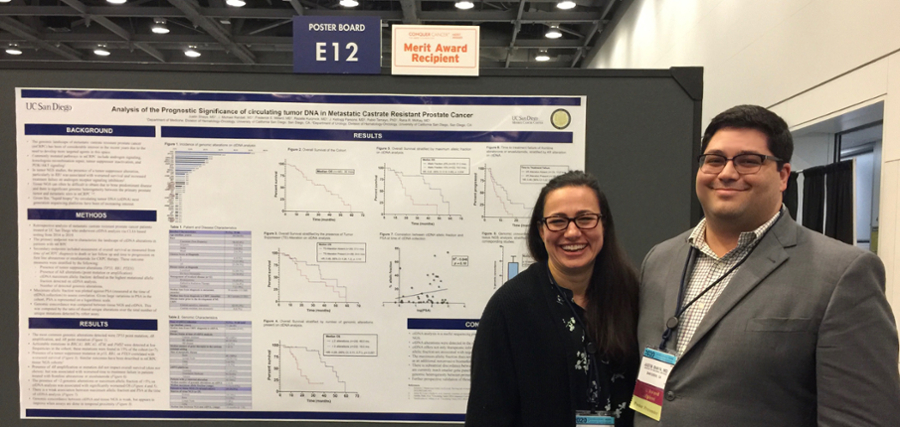 Fellows interested in clinical research and trials are often mentored by faculty within the Cancer Center. Fellows work with their mentors to develop a protocol and then work through the process towards the development of a realized clinical trial. Fellows often also work concurrently on retrospective studies, biomarker studies, and reviews to develop a broad research portfolio. 
In-depth training in clinical research – from trial design to execution – is available through the Clinical Research Enhancement through Supplemental Training (CREST) program of the School of Medicine. CREST is a two-year program that provides comprehensive multidisciplinary clinical research training for future leaders in clinical investigation. The program features an integrated design for state-of-the-art training and a broad-based curriculum encompassing major areas of clinical research. Interested Fellows typically take the abbreviated course over the period of 1-2 years; however, a Masters of Advanced Studies in Clinical Research can be awarded upon completion of the full curriculum.
Fellows who are interested in basic science have an equally wide range of mentors to choose from. Basic science research is strong at UCSD and mentors can be found not only within the UCSD School of Medicine but also at neighboring research institutions such as The Scripps Research Institute, the Burnham Institute for Cancer Research, and the Salk Institute. 
Additionally, there are training opportunities available in new cancer drug development, through the Cancer Therapeutics Training Award (CT2), led by Dwayne Stupack, PhD, Professor of OB/GYN & Reporductive Sciences and Dr. Michael Bouvet, Professor of Surgical Oncology and Director of Endocrine Surgery. This 2-year program available to post-doctoral fellows provides in-depth training in all aspects of cancer drug development.